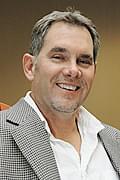 Executive Vice President
Kirk Moll has been a key member and leader of the Phoenix Contractors team since 1986. He was an estimator and project manager for our company before becoming our vice president in charge of construction services.
Kirk has led construction across the full scope of our work, including municipal buildings, car dealerships, banks, stores, restaurants, hotels, office complexes, laboratories, warehouses, light industrial facilities, single-family and multi-family residences, recreational facilities, museums, and restoration and renovation projects.
Kirk's excellence in project management has been recognized with awards from the Washtenaw Contractors Association (WCA) and the American Institute of Architects (AIA). A residence in Ann Arbor whose construction was managed by Kirk was featured in Architectural Digest.
Before joining Phoenix Contractors, Kirk was a land planner and construction technician for MacArthur Foundation in Palm Beach Gardens, Florida; a construction superintendent for Ideal Construction Company of West Bloomfield, Michigan; a carpenter for Gores Carpentry of West Bloomfield; and a field surveyor for Basney and Smith, Inc. of Detroit.
Kirk studied construction technology at Eastern Michigan University and architecture at Henry Ford Community College. He also completed a carpenter's apprenticeship program in Detroit.