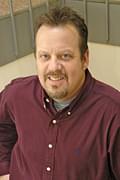 Owner and President, Phoenix Contractors
Mark Hiser joined Phoenix Contractors in 1996. Today, as president of our firm, he works to ensure our on-time, within-budget completion of construction projects for clients in the transportation, commercial, retail, service, health care, residential, public, religious, academic, and industrial arenas, among others.
Mark's fine work has been recognized, for the last 3 years in a row, with a Pyramid Award for "Best Project Team" from the Washtenaw Contractors Association (WCA). He has also been honored with a Design & Construction Showcase Award. Part of his success in ownership can be attributed to his hands on nature, he is a leader by example in every sense of the phrase.
Previously, Mark taught construction management at Eastern Michigan University, and was a vice president and project manager for Freeman Darling Construction.
Mark earned a Bachelor of Science degree in construction management from Eastern Michigan University in 1986. He has served as a curricular advisory board member at EMU, an industrial relation committee member and education committee member for the American General Contractors Association, and an education committee member for the Washtenaw Contractors Association.